Andrey Spichkin
Founder of Youth Tennis Academy.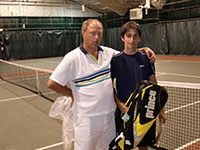 Founder of Youth Tennis Academy. Coached nationally ranked players at The National Training Center in The Soviet Union. Assistant Coach for The National 18 & Under Girls Team, The Soviet Union. General Manager of The North-Western Region of Russia Team, St.-Petersburg, Russia. Representing The Team at national level during 1990-1992 seasons. Head Coach of The Team at The Soviet Union Nationals 18's & Under ( # 5 place taken) in the 1990's. Ranked in The Top 20 in The Soviet Union Men's Singles in the 80s. Honored with The Sport's Tennis Master of The Soviet Union Title in 1985 (one of the highest levels of recognition in sports in The Soviet Union). M.S. in Sport Management. The Professional Tennis Registry member since 2000. Andrey's strong side as a coach is making kids fall in love with the game and motivating them to go on further as mature tennis players.
Bob Gambale

Been involved in tennis for the past 33 years.
Competed in singles and doubles tournaments throughout New England for ten years. Won over a hundred local singles and doubles tennis tournaments from 1981-1990 throughout New England Number 1 ranked singles Player in New England Mens B's 1985. Ranked top 20 on New England Men's Open division, Quartefinalist Waterville Valley money event.
Finalist six consecutive years of The Sun Open and Singles Champion three times. Worked for Longwood Tennis Academy in Sarasota Florida 2002-2004.
Coached Mary Gambale who went on to win seven national singles titles including 18 Nationals and was the #1 ranked player in the United States girls 18's 2004. Mary Gambale was ranked #226 in the world.
Bob's strong side as a coach is sticking to tennis fundamentals and work ethics.
Dmitriy Spichkin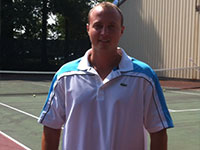 Besides possessing 20+ years of tennis experience and 125 mph serve Dmitriy has an extensive knowledge of tennis technique as well as tennis specific fitness.
Dmitriy is keeping up-to-date with the latest tennis developments by attending the international tennis symposiums and getting certifications whenever possible from attending workshops of the world's best tennis and fitness coaches.
Having competed in Russia and started coaching in Canada, Dmitriy's strong side as a coach is a passion for teaching which gets his students happy and motivated; and a profound knowledge of how to set up firm tennis fundamentals.
The long waiting list for private lessons with Dmitriy speaks for itself.